Workshops with Joana Teki + Social Dance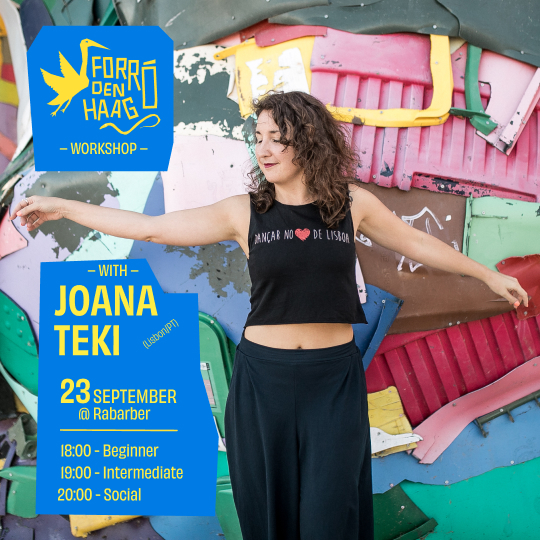 Sat, 23 September 2023
18:00 - 22:00
Rabarber
Note: Party and combo presale is closed, but party tickets are still available at the door! Come and join as at the venue!
Online tickets at a reduced price available until the day before the event. Presale tickets cannot be reimbursed.
Joana Teki is on fire 🔥: she's a teacher at Espaço Baião in Lisbon and is visiting us here in The Hague for some amazing workshops. On Saturday, she'll be teaching two workshops. One focusing on beginning Forró dancers, the other more challenging, focusing at intermediate level.
Of course, workshops with external teachers are always incredibly inspiring which is why we have a special combo if you want to take both workshops.
To master your new skills, you need to bring them to life, which is why we close off the workshops with a small social dance practice. If you cannot make it to the workshops but would like to join the social there's a small contribution to pay at the door to help us cover expenses.
18:00 - Beginner level workshop focusing on Slow motion
19:00 - Intermediate level workshop focusing on Repique
20:00 to 22:00 - Social Dance
Do you want more? On Friday we have a Forró Nacht party with DJ Miss Brown and another, open level, workshop with Joana. Let's dance!
Joana Teki always saw dance and embracing the best ways to celebrate life. Lisbon, where she was born, allowed her to learn different dance styles (from hip hop to ballroom dances), but Forró and Samba de Gafieira stole her heart. In 2019, Teki joined the Espaço Baião - Centro Cultural e Escola de Dança and is now part of the best Team :), leading workshops in forró festivals like O Baião Vai! and Maria Bonita.
In the world of Forró, Teki began as a follower, but she also leads and sees today the exchange of roles as a unique and essential experience of communication in dance, ideas, and feelings that she explores in classes.