Forró Nacht with DJ Miss Brown + Open level workshop with Joana Teki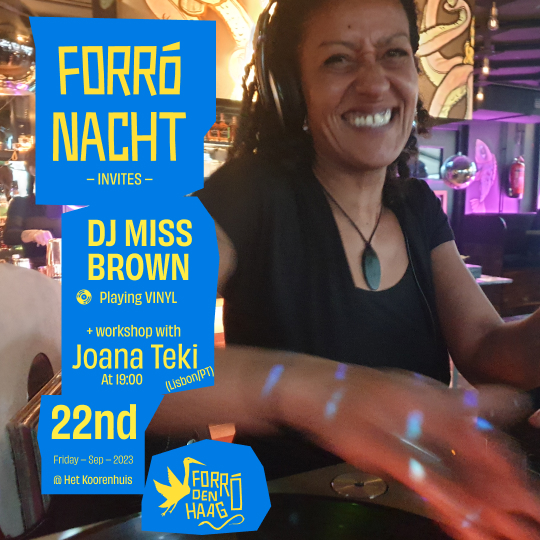 Fri, 22 September 2023
19:00 - 01:00
In 't Koorenhuis
Note: Party and combo presale is closed, but party tickets are still available at the door! Come and join as at the venue!
Online tickets at a reduced price available until the day before the event. Presale tickets cannot be reimbursed.
Are you filled with Saudade for Tamanco and longing for some good Forró? We recover from all amazing parties with the hair of the dog. Tonight, we come back to life with beats spinning by DJ Miss Brown. If you missed Tamanco, this is your time to get involved.
For all curious dancers, and everybody else, we have a special guest coming all the way from Lisbon, Portugal, offering some amazing workshops.
For the Friday night party people at Forró Nacht there's an Open Level workshop to whet your appetite for the party. If you want more, there is: Saturday Joana is giving two more workshops.
19:00 Open level workshops with Joana Teki in room 1.16
20:00 Free Forró introduction (bring your friends!)
20:30 Dance and party time!
Come to dance with us at Forró Nacht in the Hague!
Note: tickets at the door will be available for €18,-. Get yours in presale to secure spots for the party and workshop and enjoy a discount.
Trish Preston, a.k.a DJ Miss Brown has been spinning vinyl for more than 20 years and is fiercely passionate about music and dance. She skilfully combines her broad eclectic musical up-bringing, with her knowledge and experience from the late 80's, early 90's underground club/dance scene from London UK, together with her many years working as a professional dancer into all of her DJ sets taking you on a wild musical journey.
Recently, she has started Forro where she feels most at home, combining her two biggest passions of dance and Deejaying together.
Her motto as dancer to DJ has always been 'When the groove is on, get the women on the floor & the men will follow...'
Joana Teki always saw dance and embracing the best ways to celebrate life. Lisbon, where she was born, allowed her to learn different dance styles (from hip hop to ballroom dances), but Forró and Samba de Gafieira stole her heart. In 2019, Teki joined the Espaço Baião - Centro Cultural e Escola de Dança and is now part of the best Team :), leading workshops in forró festivals like O Baião Vai! and Maria Bonita.
In the world of Forró, Teki began as a follower, but she also leads and sees today the exchange of roles as a unique and essential experience of communication in dance, ideas, and feelings that she explores in classes.