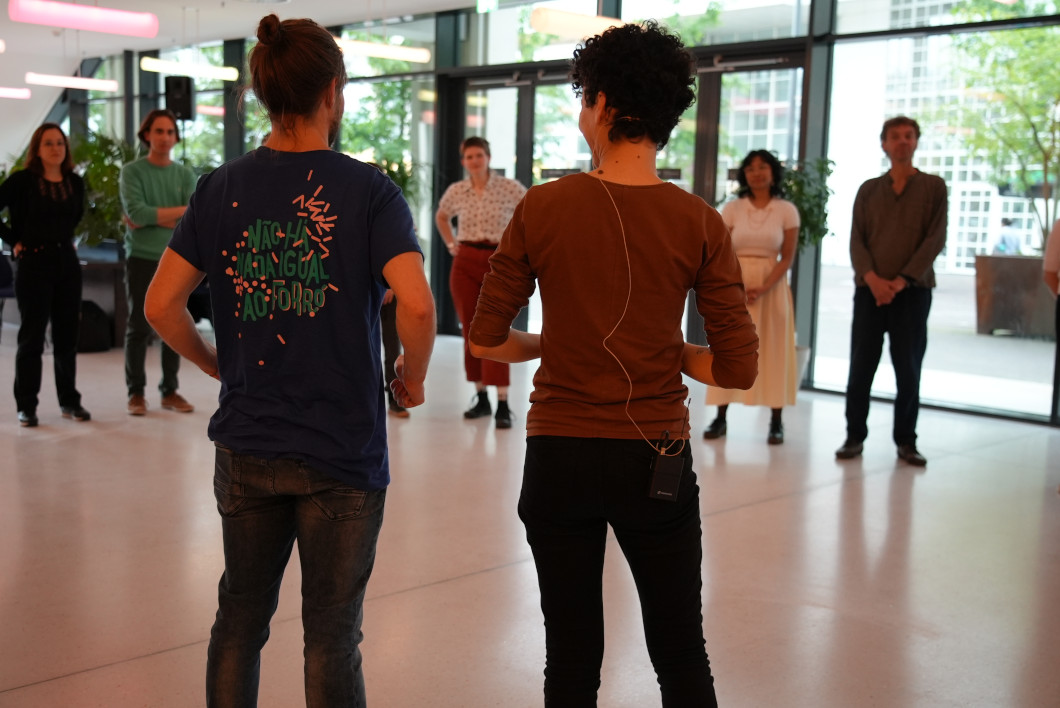 We offer regular weekly lessons in Het Koorenhuis, for 3 levels of expertise. Each level is divided into blocks of 4 weeks, and dancers can join those blocks depending on their level. In the upcoming fall season there will be 3 blocks, and whatever your level is, we have a class for you. From complete beginner to advanced, you can enjoy and improve your forró with us. By registering to the classes, you agree with their terms and conditions.
Registration for fall season is available through our studio page on Fitogram The three blocks for the fall season start in the following weeks.
Level 0 - 19:30 - 20:30
Practice - 20:30 - 21:00
Level 1 - 21:00 - 22:00
| | Starting date | End date |
| --- | --- | --- |
| Block 1 | September 19 | October 10 |
| Block 2 | October 24 | November 14 |
| Block 3 | November 21 | December 12 |
Level 2 - 20:00 - 21:00
Practice - 21:00 - 21:30
| | Starting date | End date |
| --- | --- | --- |
| Block 1 | September 14 | October 05 |
| Block 2 | October 12 | November 09 |
| Block 3 | November 16 | December 07 |
Please note: there are no classes on October 17 and 19.
You need to sign up for at least one block of 4 weeks, although we recommend signing up for a full trimester. You can sign up for a trial class at the beginning of each block, that will be reimbursed if you take the course afterwards. The prices are the following.
Trial class - € 12
4-week blocks (4 classes) - € 60
Full trimester (12 classes) - € 150
We currently offer 3 levels of instruction. The best way to assess your level is with a dance with one of our instructors. For your reference, here is the overview of what we teach and what we expect from you for each level. In case of doubt we recommend to start at a lower level, we can always discuss adjustments later on.
Level 0 - Here is your starting point, whether this is your first contact with partner dancing or you need to polish your fundamentals in forró. No dance experience is required. Do you have a background in a different dance style and wanna try forró? Have you danced forró in parties but not taken classes yet? This class is also perfect for you!
Level 1 - Level 1 is where we solidify the foundations of forró. Once you feel comfortable with the most common bases and rhythms, we'll focus on developing your dance technique, enhancing spatial awareness, and exploring concepts of musicality and creativity. Additionally, you'll have the opportunity to start learning about the cultural aspects and rich history of Forró and its role in Brazilian popular festivities.
Level 2 - On our Level 2 we want to develop the autonomy and confidence of our students. Here we will start to integrate the figures with more fluidity and be challenged to discover your own style and build your own sequences. In this course we give special attention communication and how leaders can better listen to followers, and how followers can be active during the dance.
From complete beginners to advanced dances, a private class is a great way to work on your specific needs. If you are interested, you can book a private class with our instructor Bruna.