Forró Nacht with Trio das Flores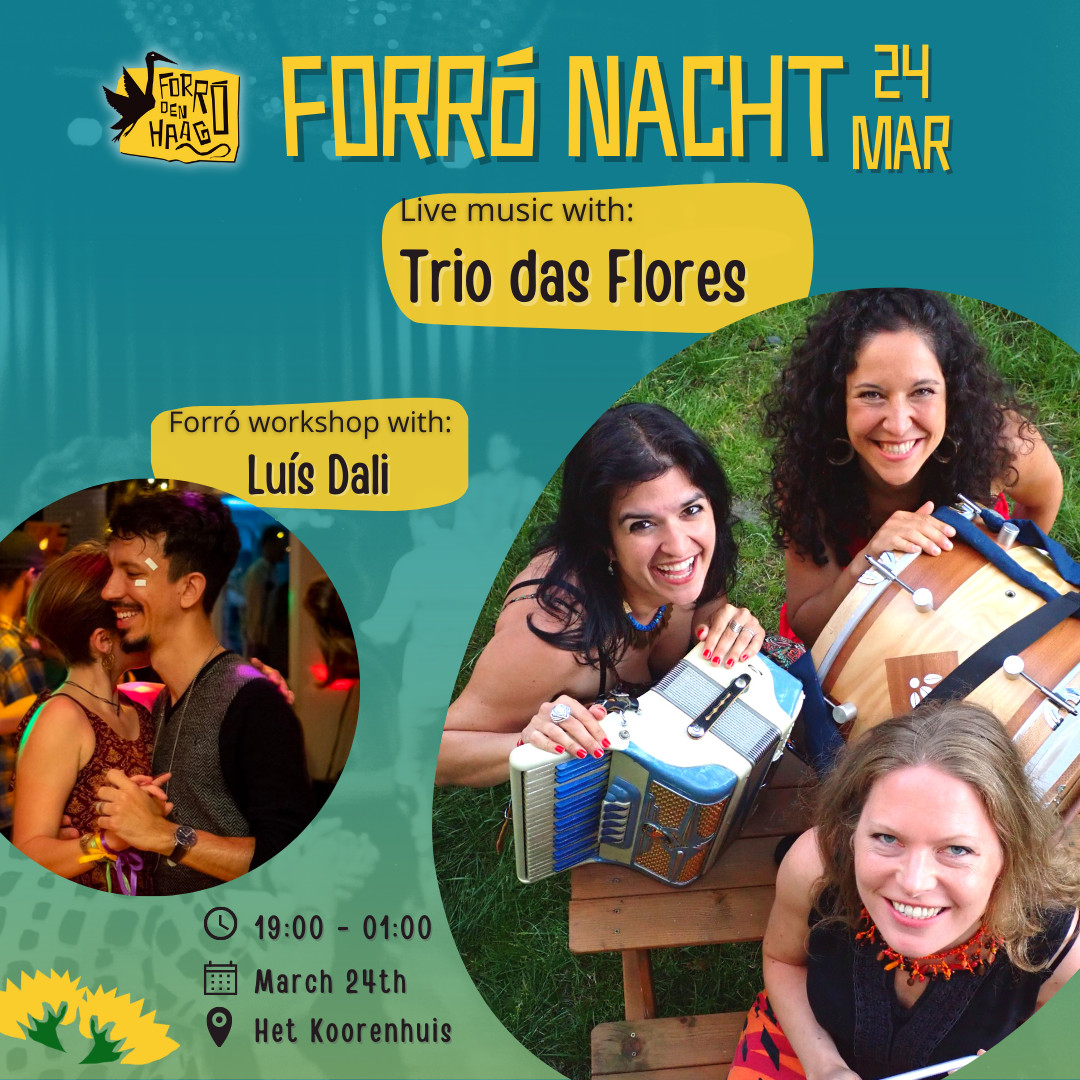 Fri, 24 March 2023
19:00 - 01:00
In 't Koorenhuis
Note: Presale is closed, but tickets are still available at the door! Come and join as at the venue!
Online tickets available until the day before the event. Price at the door is €15. Presale tickets cannot be reimbursed.
The Hague is ready for another Forró Nacht and we think you are too! This time we party with our favorite Dutch all-womens band Trio das Flores. Moreover, you can learn some extra dance steps with Brazilian Forró and Samba de Gafieira teacher Luís Dali.
Note: Workshop tickets are sold separately on our page for booking classes on Fitogram.
Forró workshop with Luís Dali: 19:00 - 20:00, tickets sold separately
Forró crash course: 19:45 - 20:30
Forró Party with Trio das Flores: 20:00 - 01:00
Brazilian Forró and Samba de Gafieira teacher from Belo Horizonte, comes for the first time in Den Haag to share the technique embedded in his authenticity, playfulness, and freedom he puts on the dance floor. Don't miss it! Learn more about Luís Dali on his instagram.
Maartje Rikhof - triangle and vocals
Elizabeth Fadel - accordeon and vocals
Lauriane Ghils - zabumba and vocals
One of the only women-only forró bands in Europe, Trio das Flores is formed by three great women, musicians who live in the Netherlands (Rotterdam). Martie Rikhof is a fantastic singer who graduated from Codarts. She is influenced by jazz and passionate about the rich diversity of Brazilian music. She plays triangle, flute and sings in this project. Elizabeth Fadel is an outstanding multi-instrumentalist and has learned the accordion in the last two years. Her passion for music from the North East of Brazil led her to start a new project in the Netherlands, this trio forró pé-de-serra (accordion, zabumba and triangle). Lauriane Ghils is a famous percussionist in Rotterdam, and she can play many different styles and instruments, such as african music, salsa and brazilian. Here she sings and plays zabumba.